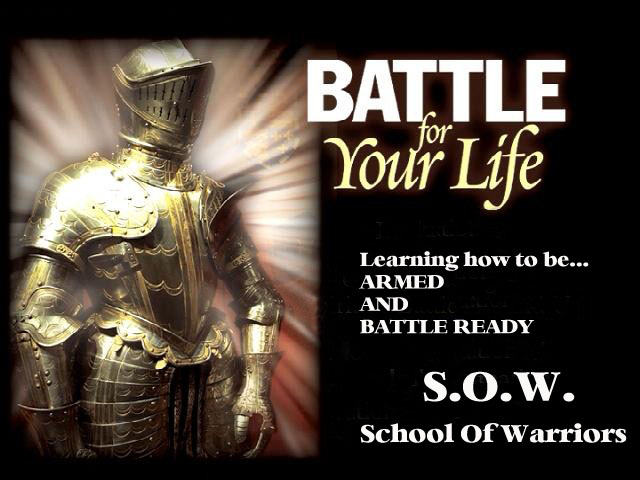 II Timothy 2:3,4
"Thou therefore endure hardness, as a GOOD SOLDIER OF JESUS CHRIST. No man the WARRETH entangleth himself with the affairs of this life: that he may please Him who hath chosen him to be a SOLDIER."
PFCOG School of Warriors, invite you to come to class....
About Us
The purpose of the School is to dress the Christian for spiritual combat. There is a war going on right now; we are in the middle of it. Satan wants to kill, steal and destroy us. But God has provided us with His armour, which is designed to protect us from all demon strategies. If we wear this armour, we can tread down satanic opposition and take new territory for our King, Jesus.
Come learn how to become:
ARMED AND BATTLE READY!
Current classes that are in session:
ARMED AND BATTLE READY COURSE
HELMET OF SALVATION
SESSION: "Battle For Your Mind"
School Enrollment Open Now!
Begin to plan... See or call for more info.
Grady Sibbett... 910-391-1469
Hurry and sign up!
Class begins:
Sunday, April 3, 2022
Time: 6:30 pm
Location: Praise Fellowship Church of God
510 Adam St. Fayetteville, N.C.
Enter at Main Sanctuary Entrance
PFCOG Senior Class SS Lessons 2020
Enrollment is open. There is no enrollment fee or cost to you. All curriculum is furnished for all classes.

To enroll: Contact us through this website or phone 910-391-1469
510 Adam St., Fayetteville, North Carolina | 910-391-1469